AT Video Shoot For Mike Anyasodo's FINE LADY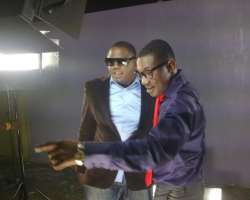 Michael Okechukwu Anyasodo was born on December 10th 1983 in Warri, Delta State, into a Christian family of two. At the tender age of six, young Mike lost his father and relocated to Aba in Abia State where he spent the formative years of his life, He acquired primary and secondary school education in Aba. Growing up wasn't easy for Mike, especially without a father figure. He learnt to fend for himself from an early age, struggling alongside his mother to put food on the table.
He relocated to Port Harcourt to live with his grand mother and subsequently to Asaba after he gained admission into the Ambrose Alli University Ekpoma to study computer science. He kept pursuing a music career while keeping up with school, hustling and shuttling between various recording studios.
He started off as a back up vocalist/song writer then later started dabbling into beat making for upcoming artists. While hustling for his daily bread he learnt of Mtn project fame West Africa through a friend and raised funds to come to Lagos for the audition.
He was dropped at the final audition stage, an experience that almost shattered his belief in music and self. Stuck in Lagos, with no form of support Mike roamed the streets feeding from hand to mouth for two weeks until he was able to raise funds to return to base.
He remained relentless and driven. Once bitten, he kept improving his vocal ability and production skills, hoping for a break which finally came when MTN returned in 2009 with the second season of Project Fame.
Mike enrolled and went on to make the last fifteen contestants which made it into the esteemed Project Fame academy.
During the ten weeks show, Mike won over the hearts of millions of Nigerians who fell in love with the young star instantly for his charming/engaging personality and energetic performances. He was aptly termed Boy wey get swagger.
In September 2009 Mike Anyasodo emerged the winner of Project Fame Season 2, bagging the first prize of N2.5m, a 2010 Rav 4 and a recording contract.
Nothing has changed for Mike Anyasodo. He is very much the same energetic, humorous and endearing boy everyone has grown to love and anticipate so much from. He is currently in the studio, finalizing his untitled debut album. He also relocated from Delta State to Lagos to face his career squarely.
Recently he released three sizzling radio singles namely Adamma, Wankoloma and of course fine fine lady (produced by the revered hit maker Cobhams Asuquo).
Mike's sound is rnb soul with a slight touch of reggae, totally sincere, passionate and Nigerian. His strongest musical influences include Maxi Priest, Tuface Idibia, Fela Anikulapo Kuti, John Legend and Neyo to mention a few.
Mike plays the piano fairly well as well as the acoustic guitar. He is a totally determined young man, with very tall and realizable aspirations. He fully understands how competitive the Nigerian and global music industry has become and intends to climb to the top. In Mike's words….If I can do it then every Nigerian and African child can….i got this far by Fear Of God, perseverance and hardwork….
He encourages aspiring talents never to give up on their dreams irrespective of all challenges because he never did and his dream came through.
He aspires to record classic albums in the future, sell millions of copies of his works, win musical accolades all over the world and devote his entire life to Charity and philanthropy.
Mike is also very certain his late father would be so proud of him and smiling from heaven….