Denrele Edun in Tears as he Celebrates Valentine at Cemetery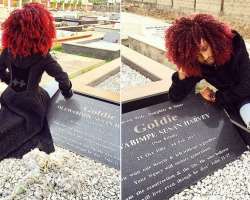 When people are talking about having a real and good friend then late singer, Goldie Harvey is just one lucky person to have had popular TV personality and event host, Denrele Edun, as a friend.
During her life time, she and Denrele were trailed with various controversies and they never allowed that to affect their friendship as they kept waxing stronger even to a point that many never knew she was married.
It's so sad that some friends may never live with us forever as uncle death will always come knocking one day and take away that happiness which was what happened to Goldie four years ago.
Goldie died in 2013, after a brief illness yet her best friend, Denrele, has never stopped visiting her grave side as he has made it a point of duty to go there every year precisely February 14.