See How Actress, Empress Njamah is Enjoying Her Wealth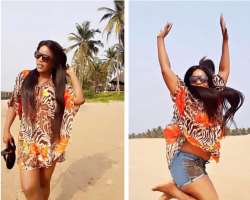 It's good to work smart but not too hard and pretty Nollywood actress, Empress Njamah, has been doing just that by making cool cash without so much stress.
The actress has not been successful because she is the best, but because of the prayers of the children her foundation tries to put smiles on their faces.
Empress might not be getting the thousands of movie roles like others as she is very picky with her scripts though but she is contempt with the little she has as her fashion business is also doing fine in the capital city, Abuja.
Rather than being proud, the actress is one of many who is ready to travel down to any state to support a colleague just the way she did for her friend, Yvonne Jegede, who recently got married.
Not wanting to confine herself at home, club or business stress, the actress decided to take herself out to have a feel of what nature has to offer and you will agree that she did the right thing.