Actress, Cossy Orjiakor Threatens Men in Public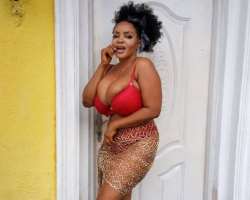 Controversial Nollywood actress, Cossy Orjiakor, is seriously not taking things easy these days as she is ever ready to flaunt what her mama took nine months to make.
The actress is blessed with good physical features no doubt but she keeps using it to threaten men especially while the slim ladies get jealous about it.
Well, it seems this time she went too far as she shared her pics where she only wore bra and pant just to let her fans know that she is already shedding weight.
Funny enough, she showed off her backside letting those who care to know that she is shedding weight at the right places.