Checkout The Environment Where Actress Chika Ike is Developing a House (photos)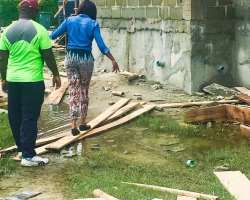 Much has not really been heard about pretty Nollywood actress, Chika Ike, but hey, the actress has been very busy moving from one place to another and it's all about making cool money.
The actress for some time now has not been busy on her production set as she now puts more of her time on her estate management business which seems to be fetching her some cool cash.
She recently shared some pictures of her latest job as evidence that she sure knows what she is doing with affirmation that she loves what she is doing despite all odds.
"These past few weeks has been super hectic for me. When I'm not filming I wear my real estate developer hat... I love it, but it's not an easy venture. Nothing good comes easy," she stated.