I Don't Have Money to Afford Luxury Cars…Terry G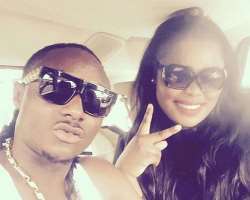 Singer, Terry G, may not be loved by many but he still has people that adore his works and styles and to that, he has remained one of the many focused singers in the Nigerian music industry.
The singer could also be described as a business man because while making beats for himself and releasing singles, his woman, Mimi Omorogbe, is busy taking care of his son.
He recently watched his son's training on football and he was indeed proud that he has been able to take care of him and his mother has been playing a good role in his life.
Rather than jump from one lady to another and having more children, the singer is all out to ensure that he gives his son the bet life has to offer.
Terry G stated that he might not be able to afford al the luxury cars but he is ready to spend money on his son to see him become a footballer since he as a father could not attain that height.
According to him, "back in the days, when I thought football was gonna be a carrier for me, well shii didn't work, I said it and am doing it....Am proud of you son, I fit no dey buy luxury cars now but e sure for me....I will do anything to make that dream come traaa. Thank you mama Rex, Mimi Omorogbe for taking good care of prince Teerex."