ACTOR SHIA LABEOUF 'SLATES' INDIANA JONES SEQUEL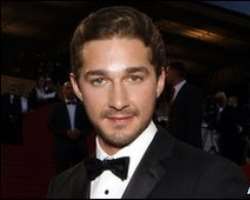 Wall Street Money Never Sleeps opened the 63rd Cannes Film Festival
Actor Shia LaBeouf has reportedly criticised two of his biggest films, Indiana Jones and the Kingdom Of The Crystal Skull and Transformers 2.
LaBeouf was quoted in the LA Times as saying of the 2008 Jones film: "I feel like I dropped the ball on the legacy that people loved".
It comes days after he admitted he "wasn't impressed" with Transformers 2, saying "the heart was gone".
The actor is in Cannes to promote the sequel to Wall Street.
LaBeouf said he did not think he had given a convincing performance during "monkey-swinging" action scenes in the 2008 Indiana Jones film.
"The actor's job is to make it come alive and make it work, and I couldn't do it. So that's my fault. Simple."
LaBeouf played a Marlon Brando-eque teenager in the Indiana Jones film
Going further, LaBeouf said his co-star Harrison Ford agreed with his opinion of the movie.
"We had major discussions. He wasn't happy with it either," the actor is quoted as saying.
"Look, the movie could have been updated. There was a reason it wasn't universally accepted."
But LaBeouf said he was not worried about upsetting his mentor Steven Spielberg, who directed the film.
"I'll probably get a call," LaBeouf said, "but he needs to hear this. I love him."
"He's done so much great work that there's no need for him to feel vulnerable about one film. But when you drop the ball, you drop the ball.'
The actor said his bad experiences when updating one beloved 80s movie made him nervous about accepting a role on the Wall Street sequel.
"If I was going to do it twice, my career was over. So this was fight-or-flight for me."
Outspoken stars
Hollywood stars are not usually so candid about their work – although LaBeouf's Transformers co-star Megan Fox gave an interview last year in which she said: "People are well aware that this is not a movie about acting".
Other stars who have criticised their own films include Grey's Anatomy star Katherine Heigl, who was quoted as saying her hit 2007 film Knocked Up was "sexist" and hard for her to love.
Halle Berry received a Golden Raspberry in 2005 for superhero spin-off Catwoman. She turned up in person to collect the trophy, calling the box office flop an "awful movie."
George Clooney, meanwhile, has referred to his stint as Batman as "a waste of money".