Actor, Tchidi Chikere Hoping to Become father Again?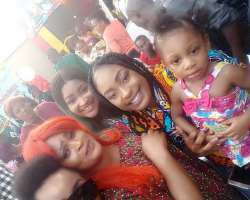 Ever vibrant Nollywood actor and producer, Tchidi Chikere, has been very busy rolling out lots of busy but that has not taken him away from his lovely family.
The actor welcomed a baby girl from his actress, Nuella, and today, their daughter is all grown up and the actor is ensuring that no matter the situation of the economy, he provides for his child.
Well, with this fast growth, Tchidi will be warming up for another child as he has not been able to take his eye off his pretty and charming wife.
The two love birds have been able to overcome all the challenges that trailed their union some years back and thank God they were able to stand the test of time just to prove how much they love each other and they have so far been one of the happy couple in the industry.