I Need a Man Who Can handle me Well For 12 Hours…Actress, Lizzy Anjorin Reveals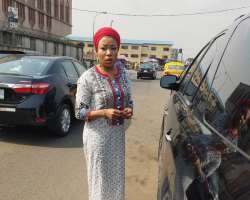 Recently, Nollywood actress, Lizzy Anjorin, was put to blast over what some of her fans terms as error in her spoken English based on the video she shared of herself playing with her dogs.
Lizzy kept mute all along while watching the way many were castigating her spoken English and she recently decided to reply that if anyone has issues with that, she will not mind having a teacher to tutor her.
In her words, "My pets making me so fresh and fly... bought "Terror" 8weeks old for 380k now 20 weeks old, bought "Pretty" 40k at 4weeks old now 52weeks . "Sexy" was gifted to me by a brother now 16weeks old. "Handsome" @ 8weeks old was sold for 70k , now 10weeks . Total cost of my pets is 490k. I can't calculate their food, medical and training bills...
‎
"Let's me assume 3 million naira now for their worth, with 10milliin cash on table for publicity you may not get this kind of noisy and odoriferous attention.. for my error , omission or slip of tongue while playing with my beautiful pets. Kindly assist me with adult education or with a private teacher but note: ‎- My teacher must be a guy, He must be handsome, tall, dark in completion, no tattoo, I will prefer him barb low cut , age -27 to 75, no chest hair and if there is ? The chest hair must be soft and silky, no mouth odour, his armpit must be clean and clear, little moustache will be appreciated because it tickles me..he must have six pack plus he must b ready to teach from 6pm to 6am."‎