I Had to Cancel The Planned Protest Due to Security Reasons…2Face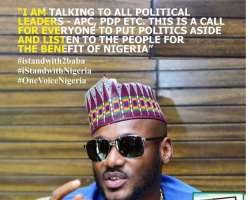 The planned protest staged by singer, 2Face, has been the talk of the town and many had feared that the protest might lead to an unhealthy situation in the country.
2Face has been receiving various phone calls in the past one week about the protest which was scheduled to take place in two states, Lagos and Abuja, and after all discussions, the singer decided to cancel the protest.
He explained that it will not be nice to see any form of bloodshed due to the peaceful protest and as a result of that, there was the need to call it off.
2Face added that he has received various reports that some people were planning to capitalize on the protest to carry out various mischievous activities and this will end up not speaking well for both the protest and the country at large.
Sad for the country, the singer wrote, "Dear Nigerians!!! Due to security concerns and public safety consideration. I hereby announce the cancellation of the planned March."