INDESTRUCTIBLE RAFAEL NADAL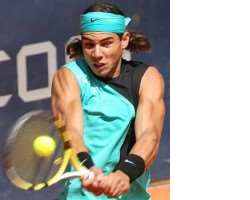 destructible Rafael Nadal
Wednesday, 19 May 2010 00:00 By Ayo Ositelu Sports – Abroad
PLAYING the nosy poker, I was well placed to eavesdrop on a dialogue between two fans who were exiting the magnificent La Caja Magica, the complex which had just hosted one of the most eagerly-anticipated encounters at the highest level of professional tennis.
It was the Men's Singles final of the just concluded ATP Tour Madrid Open Masters 1000 event, the fifth of the year's nine-stop Masters 1000 events, which brought together familiar foes, world number one Roger Federer of Switzerland and Spain's Rafael Nadal, the most accomplished Masters 1000 campaigner of the active players.
First fan: 'What a match! Given that in spite of Federer's desperate desire not to lose again to the one player who has dominated him in what has turned out to be a one-sided rivalry between the top two players in the world, what do you think the French Open at Roland Garros will look like?'
Second fan: I can't see the French Open ending in a different result. Left to me, I think the other players are better advised to stay home, and the Trophy escorted ceremoniously to Rafael Nadal's residence in Mallorca, Spain… Seriously, after what I've seen today, I can't see anyone beat Nadal on the slow, red dirt at Roland Garros or any other clay court facility anywhere in the world.
As offensive as the second fan's opinion may be to sworn admirers of Federer, one finds it difficult to dismiss such remarks as utter non-sense. This was a match the undisputed world number one (Federer) wanted to win above any other match.
To be sure, Federeer was not lacking in self motivation, if only to put away a mighty 'donkey' off his back. Going into Sunday's final, Federer was well aware that he had won just seven of the twenty matches between him and his fiercest rival (Nadal). Out of their eleven matches on clay, Federer had won just twice. Even though Nadal was ranked third, behind second placed Novak Djokovic of Serbia, there were many around the world who believed that Federer had merely been a beneficiary of then world number one Nadal's injury woes, which largely had accounted for the Spaniard's dip in form, thus allowing the Swiss master to snatch back his topmost status in the sport.
Forget the fans' view for a second. Even Federeer himself knew for certain that the overwhelmingly rich legacy which he has been building as arguably the greatest player ever to play the game would be tarnished somewhat if Nadal continued to enjoy such stranglehold over the supposedly greatest-ever player on the planet.
'Federer is undoubtedly one of the greatest players ever. But if, in many people's view, American 'Pistol' Pete Sampras is acknowledged as the world's greatest-ever player on grass, and Nadal is everyone's choice as virtually unbeatable on clay courts, how can posterity judge Federer as the greatest-ever player to step on a tennis court?' asked Australia's Pat Cash, the 1987 Wimbledon Singles champion.
Two years ago, South African tennis legend, Wayne Ferreira, jumped into the debate and noted, 'There is no doubting the fact that Federer's place is already reserved in the game's folklore as up there with the likes of Australia's Rod Laver, Swede Bjorn Borg, Americans Pete Sampras and Andre Agassi, and that is excellent company in itself… But the truth is that I'm not even sure who in the end would emerge the better of the current dominant figures in the sport - Federer or Nadal… The way I see it, Nadal has yet to play his best. He keeps improving on every surface and every aspect of his game, especially his serve. The way Nadal is going, I think he will win Wimbledon before Federer wins the French Open.'
Even Ferreira, except he is prophet, could not have expected his prediction to come to pass so soon. As it turned out, Nadal surprised everyone, including his own self probably, when just two months after Ferreira's prediction, Nadal defeated Federer in the final of the 2008 edition of Wimbledon.
The Spaniard then followed up that surprising success with a gold medal at the Beijing Olympic Games, overtook Federer and ended the year as world number one, before carrying the momentum to last year's Australian Open, beating Federer in the final yet again.
The rest is history, as they say, but sadly, with all that successful streak, something's got to give, in the words of the wise. Chronic knee injuries (tendonitis) set in, forcing injury lay-offs and of course a dip in form and the world rankings which at one stage had him languishing in number five.
He lost everything - his French Open title, Artois Championships title in London, his Wimbledon crown, and his world number one ranking. In fact, by the time he went into the Monte Carlo Masters 1000 event last month, he had not won a tournament of any kind in eleven months.
Naturally, tongues around tennis facilities all over the world had started to commence obituary statements signalling the beginning of the end of the amazing Spaniard's playing career.
I, even though an unapologetic Federer faithful, refused to join these 'prophets of doom though,' especially after I witnessed the top-draw quarter-final of this year's Australian Open between Great Britain's third-seeded Andy Murray and fourth seeded Nadal. Even though Murray won the match 6-3, 7-6(3), 3-0(rtd), I had seen enough (before the Spaniard retired hurt), to convince me that Nadal way well on his way back to his former self. Even though Murray's 13 aces to Nadal's one ace, was the major factor in the Brit's deserved victory, Nadal had served 67 per cent first serves, hit 23 truly majestic winners from both sides, even went to the net 23 times, winning the point on 20 of such net-rushing occasions, and had broken his opponent twice already in the first two sets of the match.
I left the Rod Laver Arena with the belief that all Nadal needed was just more competitive matches. In the mental aspect of the game, where he had no arrival before his injury-woes, he had lost nothing. This is why I was not in the least surprised that he reached the semi-finals at the Indian Wells and Miami Masters, before winning his first title in eleven months in the favourable surroundings and atmosphere at Monte Carlo in Monaco, where he had not lost a match in five years.
Nadal won his record-setting sixth consecutive title in Monte-Carlo, where he whipped fellow compatriot Fernando 6-0. 6-1. With such a lopsided result against a player who, in most observers' opinion, had displayed the best tennis throughout the week, it was obvious to me that Nadal was sending a message, and an indication of how superior he was to the best of the chasing pack on clay.
He then skipped his home tournament in Barcelona, and missed a chance to win the title for the sixth successive year. The following week in Rome, Nadal defeated another fit-fighting fellow-Spaniard David Ferrer in two sets in the final to draw level with the legendary Andre Agassi at seventeen ATP Masters 1000 career titles. While Agassi was 34 when winning his seventeenth title, Nadal was only 23 when equalling the record.
Last Sunday, he was still only 23 when he defeated Federer to set a new record of 18 ATP Masters 1000 titles. But Nadal's latest victory over his old foe, is even more significant in that, instead of Federer narrowing his 7-13 overall career won/lost record, it was Nadal, truly back to his very best (some say he has even raised his level one notch), who extended his mastery over the world's best player to 14-7, and equally importantly to 10-2 on clay courts.
How then can anyone fault the second fan at the beginning of this piece for advising everyone else to stay at home and not waste their time trying to achieve the 'impossible dream' of beating Nadal on the clay courts of Roland Garros?
In my own humble opinion, if anyone would stop Nadal from snatching back the French Open title which he consecutively won from 2005 to 2008, that person will not be Federer. It is my belief that the only way the Swiss could retain his title is if someone else (like last year) were to upset Nadal en route to the final. Federer will beat anybody whose name is not Rafael Nadal, on clay, or any other surface.
Federer himself alluded to such thinking when he said during the week in Madrid, 'My problem is not clay. It is Rafa (Nadal).
That is saying it matter-of-factly. Who is better qualified to offer that opinion?