Actress Cum Nurse Regina Askia 'Remarries'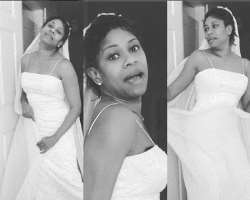 Nollywood actress and former beauty queen, Regina Askia, since getting married to her hubby, has ensured that she maintains good body that will always send men coming after her.
Hey, she is married anyway, so her hubby does not need to be scared because she is very disciplined nurse who has been caring for many lives.
Regina's marriage is 16 years gone and the she has been enjoying her union which for one day she has not cried about making such huge decision but to rekindle the marriage day, she decided to dress in her wedding gown which she has kept for so long.
Dressing in the wedding gown after 16 years, she was amazed that the gown still look good on her as it still fits her just like the same day she first wore it to the altar
"Messing around in my wedding dress…16 years later….and it fits. Well, mostly," she wrote.