Actress, Uche Elendu Steps out With Baby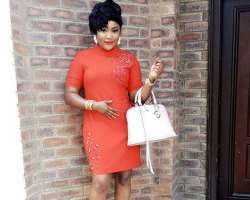 Nollywood actress, Uche Elendu's baby girl is all grown as they recently stepped out for service over the weekend.
She is looking all shades of beauty and you will appalaud her for working so much on her body after delivery which has enable her get her shape back on track.
Recently, the actress was in the news after rumours had it that her marriage has long ended but she came to clear the air that nothing of such happened as her home was still intact.
Well, all that matters for her now is that she is enjoying herself and living fine with her baby as she hopes to be the best mother she can be while the world watch.