I Want to be the Best Mother for my Daughter…Ibinabo Fiberesima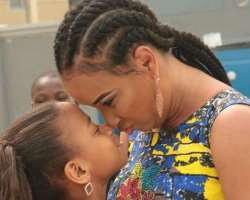 Nollywood actress, Ibinabo Fiberesima, is so happy that the fruit of her labour has not been in vain as her daughter whom she had for actor, Fred Amata, Ewomazino Amata, turns a year older.
The actress could not hide her joy as she shares with her fans how happy she is knowing that no matter the challenges one go through in life, family matters most and they are the ones that will never turn their back on loved ones.
The joy of every mothers is to see their child grow and become someone useful in the society and so far, Ibinabo has not had any cause to cry over her children as they constantly bring the needed happiness to her heart.
"When times seem too hard to bear and I feel like giving up. I vision your beautiful face, the twinkle of your eyes and things of such. The bond we created from my womb to the day you were born
Is a mother and daughter bond that can never be torn With the strength and guidance of God and the blessings he pours down from above I want to be the best mom I can be to you and embrace you with all my love. You are as precious as a flower and as gorgeous as a rose," she wrote.