Checkout Actress, Tonto Dikeh's Outfit That is Causing problem in Lagos (photo)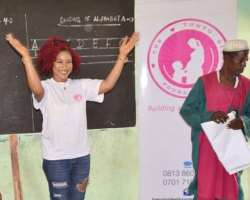 Pretty Nollywood actress, Tonto Dikeh, has been very busy these days especially with her foundation in helping the kids as they return to school and she has really been investing so much time.
The actress was recently celebrating with some kids and also giving out gifts while she took her time to tutor them as being the future leaders and the need to concentrate on their academic but what caught the attention of many was her outfit.
Tonto all in the name of fashion wore a ripped jean to the event but she was not spared by some of her fans who called her attention to it pointing that kids are very sensitive and carried away by what they see.
She actually did a good job for the kids but as role model, the kids to some extent might be hoping to be like her and also dress like her some day if not now.