I swear kemi Omololu Will Dies Untimely…Kemi Angela okorie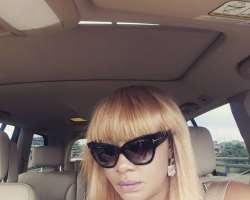 Nollywood actress, Angela Okorie, is currently trending as she is being accused by Kemi Omololu, of prostitution as she is always frequent in Gambia.
Kemi had alleged that the actress has been warming the bed of the former Gambian dictator, Yaya Jammeh, and also got part of the said stolen money that is missing in the country's account.
With such accusation, Angela will sure not overlook such as she has come out blowing hot at Kemi whom she describes as attention seeker.
Angela warned that if Kemi does not stay away from her case, she prophesied that was going to lose her life untimely.
According to Angela, "You wanted my attention, Now you can have it, I see your madness has gone to a different level, listen old witch , my bible tells me not to suffer a witch to live, I noticed you are fond of attacking celebrities "my case is different" , I am here to warn you , if you don't stop saying ill things about me you will die untimely, Since you love cursing ,may it never depart from you, you call women prostitutes, you shall die in prostitution, you will get drunk in your own blood and eat your own flesh bastard, listen I am too Graced to be disgraced, not A mere ant like you can stop me, you are too small, my God will punish you, from Your generation to generation will suffer madness , you can't bring me down for no reason, my foundation is very strong, for he that is in me is greater than he that is in the world, " i am A TOUCH NOT ENTITY" if you try to stop me I will crush you, don't forget that "I Am an unstoppable moving Train" I am ready for you old witch."