I'm Getting Matured, Can't Show off My Body Anymore…Actress, Anita Joseph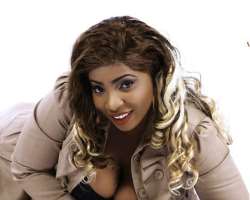 Curvy Nollywood actress, Anita Joseph, is planning big as everyone tries to adjust this 2017 in other to achieve some set goals and she does not want to be found wanting.
The actress has reflected over her past and her way of life and has now decided to let go some things as she recently disclosed that the time of nakedness in her life has passed.
She stated that it's a New Year and in proving that she is beautiful, she does not have to show her body to prove that as she is getting matured and things just needs to change.
"This is 2017; the time of nakedness has passed. I must not always show my body to be beautiful. I am growing up and becoming more mature. A lot of things will be changing about me this year. For my birthday, a lot of people expected me to wear swimming trunks and practically go naked. But I wore long dresses and they were still sexy."