Bishop David Oyedepo is One of The most Courageous Leader in Nigeria…FFK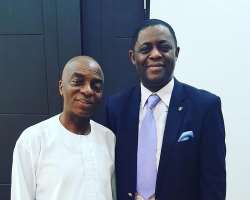 These days, we now see lots of good relationship between politics and religion and this goes to show that even how dirty the game of politics is, there is still some fear of God in some of these leaders.
Recently, former Nigeria's Aviation Minister, Femi fani Kayode better known as FFK, was at the humble aboard of the General Overseer of Winners' Chapel, aka Canaan land, an Evangelical mega church in Ota, Ogun State, Bishop David Oyedepo.
After several discussions with the man of God and nice meal, FFK, described the man of God as one of the most courageous, men in the country.
In his words, "Great honor to spend time with one of the most courageous men in our country today at his magnificent home in Canaan land. God bless Papa."