Face of Tonto Dikeh's Child Finally Revealed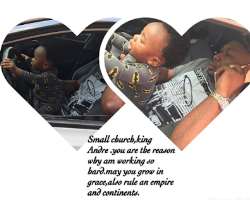 While lots of people are still spreading the rumour that Nollywood actress, Tonto Dikeh and her hubby are now worlds apart, the two are there smiling at the various publications spreading round.
Will, not many believe that they are together but a source close to the family did reveal some days back to Nollywoodgists.com that they are together and doing fine.
Well, that will be story for another day when she is read to say it herself for now, let's focus on the child whose face she has been hiding for a while now.
Will, fans have now gotten the opportunity to see the real face of the child all the same as her husband has shown off the face while teaching him how to drive.