I Will Like to be Buried Close to my Hubby…Annie Idibia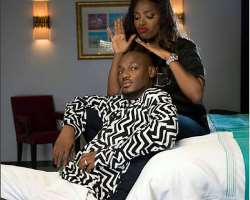 Hmm, many will still seat back to wonder how singer, 2baba and his wife, Nollywood actress, Annie Idibia, have been able to manage their marriage through knowing how exposed their career can be.
Annie might be able to control men around her but for her hubby who is exposed to several ladies who makes up his fan base, it takes only the grace of God for him to escape the challenges that comes with his career.
Recently pondering silently after seeing a meme, actress, Annie, could not hold it as she shared with her fans her thought of wanting to die side by side with her hubby.
Hmm, such prayer point can only be made by a woman that truly loves her man with all her body and soul and Annie has just proven that she is that type of woman who has found the perfectness in her man.
Men, pray you meet such a woman like Annie though, just read the thoughts she shared all the same; "I stared at this image for at least 15mins or even more... and realised I was tearing up
The picture made me feel all "types of ways" And the love in my heart towards Innocent just tripled instantly.. I know we will grow old n die someday, but God please I want spend all my days with him ,grow old with him and die beside him..next to him.. I can't Live if I have to do that without him.. I won't survive it! Life Without Him won't be worth it again.. Sad that When we grow old n grey ,1 of us will go before the other, but please can we at least grow very old together and GO together.. All of our kids n grandkids would have been all grown, graduates and well established by your grace lord.. so they will be fine. when we go. Amen. #Annie's MidnightTots"