My Husband Wants to Kill Me With Love…Actress, Sugar Chika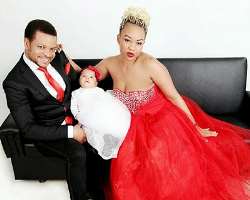 Pretty Nollywood actress, Sugar Chika, cannot thank God enough for blessing her home and bringing her the needed happiness every woman will always desire in her marital home.
It is already one year gone into her marriage and the actress was so delighted to share how romantic her hubby has been in the past one year.
She stated that her man who happens to be her best friend, has shown her so much love despite and making the first one year of the marriage a sweet one.
"Congratulations on our First Wedding Anniversay my love !!!! You won't kill me with love my sweetie sweetie number one. It has been an awesome one year married to you. They say the first year is the hardest but you made it effortless for me, smooth sailing and filled with such love and affection. You have turned my head with love. Thank you for choosing me as your better half, If I had to choose again I'd choose you still. You are mine and I am yours forever and ever IJN Amen. Happy Anniversary my God given husband, my gentleman to the core, my rock my protector YES I LOVE YOU TOO.
"16th Jan 2017 yesss its one year already so much has happened it feels like 10yrs. My love I love u not just for who u are but for the special way you make me feel, today is not just to celebrate our wedding but to celebrate every single day being married to an amazing man like you Congratulations on our anniversary my darling husband God made it possible. I want to thank all my friends who where there on my wedding day. May God continue to bless you as we remain in your prayers. Love love love you. You turned me from a girl into a woman and make me feel like a queen everyday. I will always cherish you my king Happy Anniversary to us. One year down Loads to go The king his Queen and their princess," she wrote.