I Appreciate my Husband for Being Patient with Me… Singer, Omawumi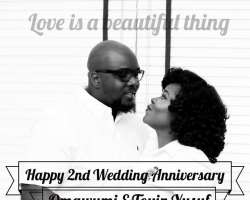 Singer, Omawumi and her husband Toyin Yusuf, are currently celebrating their 2nd year Wedding Anniversary and the singer could not hold back her joy but express her happiness to the world.
Not many can be this fortunate to get married to their babydaddy but the singer will ever be grateful to God for her happy home because she needed to take her time to know her man.
Since accepting to marry the father of her daughter and now blessed with two children, her home has been all rosy that she is not having cheating challenges like some of her entertainment colleagues.
"I want to thank my Husband for loving me and being so patient with me and I want use this opportunity to give myself a high five for just being the fabulous Mrs Y! God continue to keep us. Happy 200level in this university of matrimony of life #MrsYussuf #thankGod #goodthinggoing"