Nigerian US Army Kidnapped, Killed After Visiting New Mansion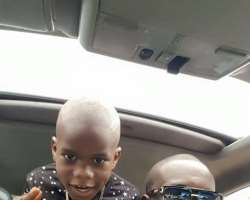 There is this current hash tag #lifeasiseeit which has been trending for a while now and with the latest sad news of a US based Nigerian Army Veteran, who was recently killed.
The Army had returned home to celebrate with his family and see his mansion which he just completed but never knew that was his end in the world as he was kidnapped and killed on the 12th of January.
Evil everywhere you will say, but God knows best as the Army's sister shared the sad news to the public. This is just one of the reasons why some people deny their homes and relocate to other states or lands.
According to the news, "What a wicked world.... who has done this to My BIG BRO? A USA veteran who just came back this Xmas after building his beautiful house (mansion)in the village not knowing that the enemies has an evil plan against him. They abducted and shot him dead yesterday night. I Can't believe this, can someone wake me up from this nightmare? Who did this to u Bro?
"I could remember the last time we spoke on phone that when you come back, we will visit the LESS PRIVILEGE and not knowing that this will be the last call we made. Can't stop crying for you BRO CHUKS . An iroko has fallen. Those that killed you will never know peace and their generation will never go unpunished. GOD WILL AVENGE FOR YOU R.I. P (LA NA UDO)"