I Never Expected to be Friend with Oge Okoye…Actress, Onyii Alex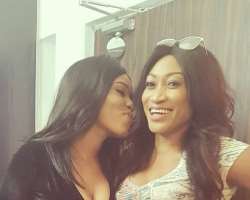 There is a saying that you don't judge a book by its cover and Nollywood actress, Onyii Alex, has just revealed the kind of perception she had for her colleague, Oge Okoye.
The actress who was in deep thoughts revealed that she never really knew Oge and had always felt like she is an actress that is very selective of those she moves with until she got the opportunity of getting close to her.
She stated that getting to know Oge more changed a whole lot of perception about her as their friendship is one she will always pray to last forever.
In her words, "You were someone I don't know before, you were someone I don't expect I will get along with but it turned out you have given me one of the best friendship ever. I'm praying that our friendship will never come to an end. My friend turn sister I love you deeply..thanks for your support..thanks for loving me."