I Use made in Nigeria Drugs to Treat Typhoid…Cossy Orjiakor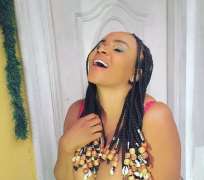 Booboolicious actress, Cossy Orjiakor, has been moved to go get some studies to know why some Nollywood practitioners and broadcasters get to have kidney failure which is becoming rampant these days.
The actress got to find out that online on what are the causes of this sickness that has been killing some of her colleagues and she was surprised at the things she saw.
She took her time to share them to her fans with the part where she disclosed that she does not go to the hospital for treatment and only use made in Nigerian drugs for treatment.
Read below;
Last week i researched online. trying to find out why actors and most people in showbiz get kidney infections. I was shocked at the findings.
1, when you work as an actor, presenter your time is limited. You may be forced to sit through a movie set because the director calls the shots and won't know how pressed you are. Solution... Just excuse yourself go and urinate or get kidney infection through the reflux of urine
2, Salty food. If the welfare is salty. Its either you eat it and increase your chances of kidney damage or demand another alternative
3. Eating too much meat...I did this a lot in my ignorance .for lunch as a big girl I eat 1 kilo of Turkey with red oil and fresh pepper now I know better, will eat just 3 pieces. Because Protein digestion produces ammonia – a toxin that is very destructive to your kidneys.
4. Drinking too much caffeine. I do this every morning and will still do it this morning. I pray my kidney understands
5. Not drinking water. Hehhehehe. It's cute to have my bottle water.. I drink and always take mine around.
6. Late treatment .most actors even me used to be scared going to hospitals, may be because of gossips and the stupid what if! Am guilty of this one though. So scared of injections been on self medication. I eat Garlic and sometime put it in there...and I use made in Nigeria drugs with scratch cards to treat typhoid and malaria 3x a year. Been doing this since 2003. This year I will take my health seriously. I hope you do too. Home remedies coming soon....will do this once a month