I Don't Wish for a Marriage That I'll be Fighting Over a Man…Moyo Lawal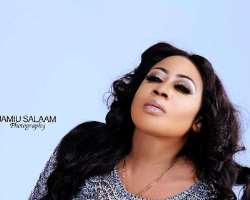 Curvy Nollywood actress, Moyo Lawal, so much loves her curviness that she is always ready to flaunt it when she feels like and she knows how to wiggle her waist to the delight of many.
It is a New Year and while she is still happy that she and her fans are alive to see another year, the actress has gotten some prayer point for single ladies.
She prayed that with hope, the New Year will bring all the single ladies whom the society is pressurizing to get married the bone of their bone.
"Happy New year everyone. To everyone who wished me a happy birthday, I say a very big heartfelt thank you to ( even though, I didn't even wish myself) you guys made my new year day truly special, thank you so much love, God bless you huge. May we all have a truly delightful and financially rewarding new year? Please, as for all we single ladies that the society keeps pressurizing to marry may the bone of our bone ...flesh of our flesh.... Find us this year. Please, Marriage that we don't have to fight so hard to maintain ni oooh,...that true type that will endure and stand the test of time ni ooooh.. #ML .. .. #Moyolawal ......p.s.p.s...p.s...the type that we can be truly happy in lets go have a truly Amazing 2017 " she wrote.