Actress, Chika Ike Poses with her G-Wagon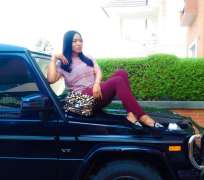 Pretty Nollywood actress, Chika Ike, has been enjoying spinterhood for some period of time now and her fans are already worried when she will reveal the lucky man she has met if any.
Well, she has been so dedicated to her acting and production job along with her reality TV show and that has been taking much of her time while she seats back to plan for other business ideas.
Hile she was about stepping out, the actress decided to show off some swags as she pose on her G-wagon for a photo shoot before she zoomed off for the business of the day.
Like she once said in an interview that she is on celibacy as she does not want to have anything to do with any man, we hope she is still on that promise though and with time, we will get to see the handsome dude that has been hanging around.