Comedian, Emma Oh Ma god Comes for Daddy Freeze over Insightful Doctrine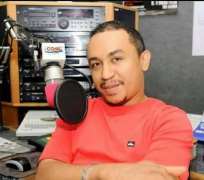 Comedian and on-air-personality, Emma Oh Ma god, has chosen to speak up base on the kind of insightful messages his fellow industry colleague, Daddy Freeze, has been passing on his fans.
Of recent, Daddy Freeze has been hitting the Christiandom hard with what he feels should not take place like paying of Tithe and other things but Emma Oh Ma god is not comfortable with this.
The comedian pointed out that he does not have any issue with his industry colleague but there are just somethings he says on social media that he will not support and for God giving him bthe ability to use his page for comedy, he also needs to speak the truth.
In his words, "I don't have anything against daddy freeze as a person... but I just don't believe in most of the things he started teaching recently and I believe God didn't just give me this platform only to put smiles on faces ... but also to re-echo the truth we've been taught about him... I am not a preacher neither am I perfect."