Actor, Hank Anuku Spotted with Ghanaian President, Nana Addo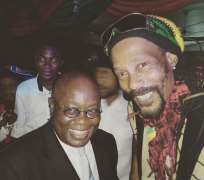 Ghanaian base popular Nollywood actor, Hank Anuku, is still waxing strong as he has been absent from the Nollywood scene for a while but silently making a name for himself in another country.
The actor who had in 2016 been trailed with some dirty controversies was recently seen hanging out with newly elected Ghanaian President, Nana Addo Dankwa Akufo-Addo.
Hank is well known for husky voice in movies as he always gets the role of the bad guy coupled with the fact that he is blessed with good body structure.