Simi's Mum Reveals her Daughter has Someone She is Already Dating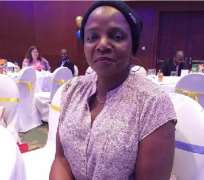 Wow, sometimes one needs to be careful of the way they talk to others in public because we never might know how the hands of time will turn as in the case of singer, Simi's mum, who attacked her close friend.
Simi's mother, Olushola Jedidiah Ogunleye, recently supported a lady who accused someone of plagiarism after the guy had cried out but within hours she forgot that such a scene had played out and she came sharing a meme which talks about being careful of how we use mouth to destroy things.
Rather than get bitter about the guy in question, Adejare Ibrahim, had to help her cast her mind back where she immediately apologized and begged for forgiveness.
Adejare made it known to her that he does not keep grudges which is what makes him look handsome and immediately, Simi's mother made it known to him that Simi is taken as she would have loved to consider him.
Read their convo below;
Adejare Ibrahim : It's easier said than done.
Olushola Jedidiah Ogunleye : Adejare Ibrahim , why not just make up your mind to do and remove doubts. With God nothing is impossible. But it is a choice. Choose your words carefully.
Adejare Ibrahim : I always choose my words carefully, and I don't speak to deride or denigrate anyone. What you said yesterday was so spiteful, but the respect I have for you restrained me from speaking.....
Olushola Jedidiah Ogunleye : What I said yesterday? Can you remind me, please. I can't remember being spiteful to anyone.
Olushola Jedidiah Ogunleye : Okay, sorry. I have apologized to you. I wasn't being spiteful. Stop allowing anger stay in your bosom for 24 hours. It is not healthy. Lol
Adejare Ibrahim : Oh, you have forgotten! Such is life.... Yesterday, on the post I wrote on those who copy and paste my write-up, you made a comment in support of a lady who accused me of plagiarism without evidence to back her argument. Your comment sounded as if you were there the time I was copying another person's work. But I have shoved it aside. No ill-feelings, Madam.
Olushola Jedidiah Ogunleye : I hope you have forgiven me.
Adejare Ibrahim : Of course, Madam. I don't nurse grudges against anyone. That's the secret of my handsomeness. Hahahaha!
Olushola Jedidiah Ogunleye : Chai. Proud handsome man. My daughter already has someone or I would have checked you out. Lol
Simisola Ogunleye : Bruv?