Gospel Singers Should not feel Bad If a Church don't Pay Them…Singer, Peace Joshua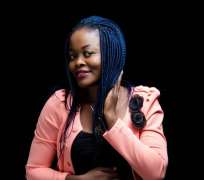 Gospel music in Nigeria has not been an easy genre as it is seen as a genre of music where there is no money compared to secular music but for fast rising gospel singer, Peace Joshua, it is not about the money but the love for God's work.
Recently speaking with Nollywoodgists.com, the singer took her time to deal on some issues she encountered just to make gospel music and perception about some things among some Christians.
Read excepts below;
As a gospel singer, can you marry someone who is more into the secular world than gospel?
Secular world of music, no. But if he just likes listening to secular music it's a different ball game entirely. Above all he has to be born again for me to marry him.
Doing gospel music, do you think Nigerian youths of today are ready to listen to it compared to secular music?
Yes they do. A lot of them now listen to gospel music, unlike before.
As a gospel musician, is it proper for you to charge a church before performing since it is believed that it is God's work you are doing also?
There's a difference between performing and ministering, it's not proper for a gospel musician to charge a church before ministering, preaching the words through music is God's work but it shouldn't be taken for granted. If the artiste has to travel down to another place for the programme that church should be able to arrange all necessary arrangements for the artist. Besides a man's gift makes a way for him, so I believe honorarium should be accorded to the artist in order to encourage the ministry. In a nutshell, the artist shouldn't be the one scouting for honorarium, if you are given fine, if not, bless God and don't feel bad.
Can your fans get to know how music all started for you and your personality?
Well, I started music right from when I grew up, I love singing so much. I just finished my O'level and I got admission into university in order to get more knowledge, and why I choose gospel is because I love God so much and I decided to worship him with the voice he gave me.
What influences the message in your music?
My message is to change the world and to minister to lives, those that thought they have lost hopes once they hear the song their hope will be restored.
What's unique about your songs that will make people want to yearn for more?
You know people like it when you proclaimed the words of God upon them And when they believe and have faith in God it will start manifesting in their life
As Christians, the Bible advised that tithe should be paid but there have been arguments that it is better given to someone in need than pastor who is living large, what's your take on that?
The bible standard is what we should follow, the tithe is God's own, you don't gamble with it. Do what God says you should do and leave the rest for him. The tithe has to be paid; the money to save a life will come.
How long have you been doing gospel music and what have been the challenges so far?
I have been into music for like 5years now, when I did my first song I passed through many things even to the extent I have to hawk things around, I sold pure water and many other food items but today God has been so awesome.
It is believed that there is no money in gospel music, how do you plan to break such perception and hope you will not delve into secular music like some artiste have done?
I don't do gospel because of the money I will get. I believe in God, he sustains me. I will keep preaching the gospel through music with my time and resources and nothing on earth can make me deviate into secular music.