Actor, Deyemi Okanlawon Celebrates 4th Year Wedding Anniversary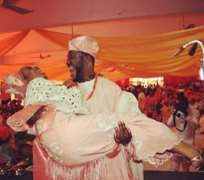 Nollywood actor, Deyemi Okanlawon, might be that serious actor while on set and might even be rude to ladies but when he drops the actor's robe, he is that dude everyone will want to associate with.
He is more of that Mr lover man but one things is certain that he does not wish to share his love with any other woman except his pretty wife, Damilola and his son.
The actor is currently smiling while he keeps staring at his wife who has been able to endure his excesses yet has not allowed the world to have any negative report about him as they keep the bond strong which has made them celebrate their 4th year wedding anniversary today.
While sharing the good news, he appreciated his words with sweets words to show how much she means to him. "For loving and accepting me with my plenty wahala, for being my best friend and being there every single time, for giving me the best gift ever - the most adorable son in the world, for just being so amazing... THANK YOU and Happy Anniversary #My Heart #My Love ."