I Dumped by Family, Friends Because I Had no Career…Hakeem Effect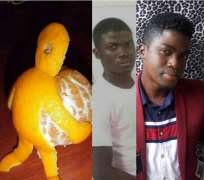 Popular Nollywood make-up artist, Hakeem Effect, has emerged as one of Nollywood's most sought after considering how creative he has been over the years with his constant improvement in his craft of transforming people.
His journey into the motion picture world has not been an easy ride yet, he never gave up on himself as he was rejected several times while going for various auditions.
At some point, he threw in the towel since he could not get movie roles and decided to carve a niche for himself when it comes to effect and that has paved ways for him even than some actors he has worked with.
Reflecting on how far he has come, he disclosed that despite being neglected by friends and families, he never gave up on himself as he had to push himself further to get to where he is today.
According to him, "I've tried my hands on different things in life to be successful and I have failed many times I've once been dumped in an historical basket by friends and family but the ability to pick myself up leads me to where I am today......I might not be there yet, but I am far away from where I picked myself."