If you Cry Everyday in Relationship, Think if you are Dating a Man or Onion…Actress, Nazaret Jesse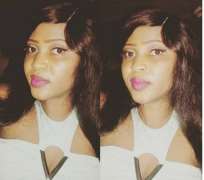 These days, it seems the trending issues in entertainment is about relationships and marriages as the rate of domestic violence is on the increase with Nollywood actress, Nazaret Jesse coming to air her opinion.
Jesse is not that actress that makes headlines regularly as she prefers to maintain a low profile but the recent challenges in relationships has made her to speak out calling on ladies to watch out before they start crying.
The actress stated that it is wrong for a lady to constantly shed tears in her relationship without taking the bull by the horn before things become worse.
She warned that any lady that cries everyday in her relationship needs to seat back and ask herself if she falling in love with human being or onion.
In her words, "Dear ladies. If you cry everyday in your relationship, sit down, take a breath and ask yourself, "Am I dating a human or an Onion?" think twice!!!"
Hmm, words for the serious matured minds though.