God, I Wish my Husband Can Stop Smoking…Funke Akindele's Goes Emotional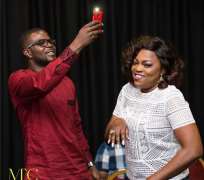 Just like every other persons making wishes for the New Year, rather than wish to make millions and buy luxuries, Nollywood actress, Funke Akindele, has made a very emotional wish on behalf of her hubby, JJC Skillz.
The actress showing how much she loves her man asked God to grant her one of many wishes which is that her hubby should stop smoking.
''My new year Resolution is to Get closer to God'' ''God Please Let Mr J stop smoking'' '' Jenifa's diary is coming stronger so washhh hout'' she wrote.
It is not easy falling in love with someone that smokes especially but for the actress, it has been about true love with the hope that through her, change will come into the family.
The lovers have been enjoying nice time together and recently, they just had their house warming which saw lots of industry colleagues showing up to merry with them.