NURTW Boss, Mc Oluomo Shows off His Pretty Wives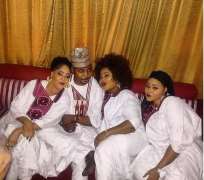 Marriage is indeed a good thing as it will keep one away from fornicating and some religion or traditions, allows one to marry more than one wife and for the National Union of Road Transport Worker Boss, Mc Oluomo, it's about happiness.
Mc Oluomo, who has made various headlines in the past, recently shared photo of his three pretty wives looking all happy together.
We don't know yet if he has plans to increase his home but for now, he has been able to feed them and his children and they all look clean and radiant.