See Actress, Uche Ogbodo's outfit to Friend's Wedding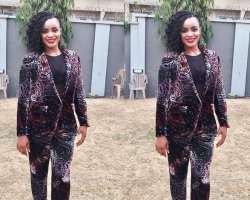 Nollywood actress, Uche Ogbodo, recently stepped out for a friend's wedding and the actress rather than go in the regular gown like other females decided to give a different look.
She stepped out in a breast tube and a Suede suit to add glamour to her outfit as she was also in company of actor, John Okafor's wife, Stella.
Her fans have got lots of things to complain about ranging from her losing weight to her makeup but she is ready to exchange words with anyone for now as things she does is about her happiness and not to please anyone.