Army Guards Singer, Terry G with AK47 Riffle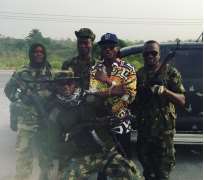 The original and self-styled Ginjah Master, Terry G, has been on a low key for a while now yet still making his money despite not releasing hit singles.
Terry G, is one of many smart entertainers who has been able to carve a niche for himself in the industry and his silence so far has only proven that he is not in competition with anyone.
With his Sachet water business, the singer can seat back and relax knowing that his business his doing fine and he can pay for whatever he wants no matter the situation of the country knowing that people will drink water to calm down.
The singer has gotten some new singles but he has been busy going on various tours within the country and recently, he was in Sierra Leone, and now 2017, he is already planning for his US tour.
Despite his popularity with the streets, the singer was spotted recently with heavily armed Military personnel on his way for a show and they could not hide how happy they were guarding the man that turns on the ginjah