See How Pretty Actress, Bimbo Thomas Looks with her Massive Tattoo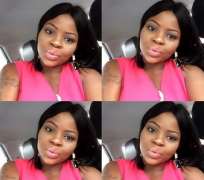 Nollywood actress, Bimbo Thomas, is looking all shades of beauty this New Year and with a huge smile on her, she is not ready to allow that smile stop.
The actress stepped out for an outing this New Year and she decided to show off her new looks after child birth and her massive arm tattoo.
It seems the tattoo is permanent one but since she loves it, she is cool with it and not ready to remove it. Well, she does not have issues with it because according to her back then, it ministers Christ to her.
She also did say that anytime one offends her and she wants to take any silly action against the person, somehow, the tattoo in her arms minister to her and she slows down.
In her words, "The design of the tattoo on my arm is crucifix, which symbolises Christ, His passion. If you look closely, there is heart design there, it stands for love. It shows that Christ loves us and for Him to have died for us, he had taken away all our sins and burdens. He has told us to love as he has loved us. I chose this design of tattoo because of the love of Christ. I think by wearing it, even when someone hurts me and I want to retaliate angrily, somehow something would tell me that you are wearing a crucifix on your arm. If Christ could do this for me, why can't I let go and love my fellow human being regardless. By so doing, I let the anger go. My tattoo ministers Christ to me."
It's a New Year; thank God her baby is growing fast so she will soon be hitting the movie locations soon for more hustle while her wine store is also bringing in more money.