Actress, Rita Dominic Unites with Family in Australia After 10 years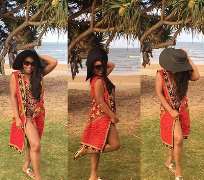 See, there is nothing like having a good family that really cares about you and Nollywood actress, Rita Dominic, has just proven that she has that good family everyone craves for.
The actress has been so busy in the past 10 years that she hardly has the time to spend with her family until recently when she took the bull by the horn to push some works aside.
In celebration of the festive season, the actress decided to spend quality time with her family in Australia and this brought her so much happiness uniting with them again after so many years.
Hard work pays though; she is also working to make them happy all the same since no man has come to take her away.