Singer, Eedris Abdulkareem Unites with Colleagues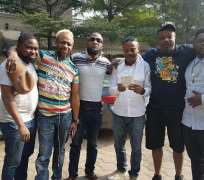 It's New Year and expectations are very high on what the year 2017 has in stock for many and so, some of the pioneers of hip hop music in Nigeria, Eedris Abdulkareem, Azadus, Tony Tetuila, Eddy Montana, Jazzman Olofin, decided to hookup after many years.
These were some of the guys in the Nigerian music industry that paved the way and were brave enough to follow their dreams when music was not taken as a serious profession in the country.
Well, you can tell that they might be doing well for themselves but age is fast telling on them as they now look reserved while they psoe together in Ibadan.