Actress, Judith Audu Hangs out with Hubby at Beach (photos)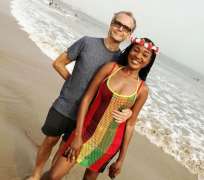 It's been a very busy year 2016 for lots of Nollywood stars and they had to create time to hang out with their loved ones like actress and producer, Judith Audu, did with hers.
While she and her husband were very busy trying to make ends meet, the two love birds decided to have a family outing in the New Year 2017 as they all moved to Takwa Bay beach for family relaxation.
There is nothing better than having a healthy life and times where one just decides to hang out in a natural environment just to ease of stress and other thoughts.