JOS CRISES: MY STORY – GOC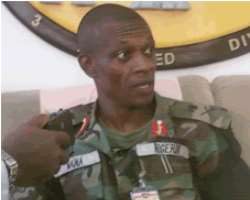 Maina
General Saleh Maina is certainly in the 'red' eyes of the storm. He is the General Officer Commanding (GCO), 3 Armoured Division, Nigerian Army, Jos, Plateau State. Maina is also Commander, Special Military Task Force saddled with the responsibilty of restoring and maintaining law and order in the crisis-ridden Plateau, particularly Jos.
But the General told Daily Sun he is no stranger to quelling crises. He has been involved in crisis management since the days of the Maitasine riots, 1982/83 in Maiduguri, Borno State. He was at the Offa/Erinle crisis in Kwara State, 2005/06, Boko Haram riots in Maiduguri and Bauchi, 2009, and now Jos crises.
This is not his first military posting to Jos. Between 2002 and 2003, he was at the same division as Commander, 3 Armoured Division Garrison, as a Colonel.
He opened up last week in his office at the Rubuka Barracks, Jos, headquarters of the division. He spoke on all you would want to know about the 'sturbborn' Jos crises. And even more. Excerpts:
Handling of Maintasine riots, Borno State, Offa/Erinle crisis, Kwara State and Boko Haram crises, Borno and Bauchi states. 'If you are referring to my participation in internal security and management of internal security operations on crisis, I would say I was posted to Ilorin, Kwara State, as Commander, 22, Armoured Brigade. Prior to that, however, as a young officer, I was in Maiduguri, Borno State, in the early 80s, where we had to contain the Maitasine crisis.
'I was also involved in the Erin-Ile/Offa crises in 2006, where I was Commander, 22 Armoured Brigade, Ilorin. The one that occurred in Bauchi, the Boko Haram crisis, I happened to be there as the General Officer Commanding (GOC), 3 Armoured Division, Jos. It just happened that it was within my area of command. We did the best we could, professionally, in handling those crises. We put all our resources together, and we had all the necessary supports.'
Tough decisions
'We took tough decisions during those trying moments. We had to be decisive because we had no choice. All the decisions were very serious. Serious in the sense that human lives were being lost. Don't forget that every life is important. So, it was a matter of making a correct and sincere assessment of the situations and taking tough decisions. We had the cooperation of everybody, which greatly contributed to the successes we recorded. We put all resources together and made quick assessment of the situation. We looked at our resources and enjoyed the cooperation of all the stakeholders in managing those crises.'
Jos crises
'For the current situation, I must say that it was a different ball game, in the sense that one had to be as realistic as possible. One had to understand that the crisis in Plateau State has a long line of history. Apart from the Offa/Erinle crisis, all the other ones were spontaneous.
'In Jos, we have been doing the best we could and putting our resources together. We have been able to contain the situation to where we are today, using our being guided by all the rules of war, rules of engagement, principles of internal security operations. With that, we have been doing our jobs as professionally as possible. We are happy that presently, law and order has been restored.'
What went wrong in Jos, in the area of crisis management?
'I would say that, Jos has a very long history of crises. When I came here on January 26, 2009, there were soldiers on the streets of Jos. There were task force personnel and police patrol on the streets of Jos, all towards collective efforts at restoring law and order. That was after the November 28, 2008 crisis. Even there were crises in Jos before then. So, Jos happens to be a peculiar situation in which we find ourselves.
'Again, unlike other places, one of the challenges we face in Jos is the lack of participation of the principal stakeholders. In other places, the stakeholders, at all levels were active participants towards the restoration of law and order. 'For example in Ilorin, Kwara State, Governor Bukola Saraki was involved, asking questions and communicating. In Maiduguri, Borno State, Governor Modu Sheriff came to the barracks, held meetings with the people.
'But here (Jos), what we get are incitements, either from a commissioner, local government chairman or a federal legislator, including even traditional rulers. They are either silent or saying things that will worsen the situation. Then, to my surprise, they now turn back to look for whom to blame, which is most often times the military. That is the major difference and we are doing our best to contain the situation. Today, I am happy to say that the situation has been peaceful, and a lot of the activities have been restored.'
Military involvement
'The military involvement in restoring law and order is part of our constitutional responsibility. The Special Task Force was set up by the Commander-in-Chief himself. And the task force is composed of the personnel of the Nigerian Air Force, Army, Navy as well as the Police. So, nobody is left out in containing the situation. The participation of the military is not in taken over the security of the state but assisting the civil authority, the Plateau State Government, in the restoration of law and order. We are all partners in progress. And the state government is doing a lot to see that we succeed in this very difficult mission.
'The problems of Jos have been lingering and the military has always been involved towards the restoration of law and order and internal security. When I was Garrison Commander here in 2002, 2003, there were troops in some parts of Plateau axis. And they are still there. It is not a new thing. I do hope that this time we will get it right.'
Effect of religion in solving the crisis.
'As a soldier, in my effort in maintaining law and order, I don't see any Muslim or Christian. My job is to maintain and restore law and order. We don't carry out our job based on any religious or ethnic point of view. I was sent to Jos to restore law and order. Whether they are from the same religion or ethnic group, I don't know. It is not written on anybody's forehead whether he is Muslim or Christian. The mandate is very clear, the rules of engagement are very clear. Restore law and order, protect life and property. It is clear. Whether they are of the same ethnic or religious group does not matter.'
How do you feel, seeing people fell by bullets?
'Actually, I didn't see people falling to the bullet. I have seen corpses in various stages which I don't want to recall. It is very saddening. One wonders what goes in the minds of those who carry out such acts. As I told journalists in an earlier chat, my history teacher when I was in form one in Kano, defined civilization as the act of living together peacefully in large groups. I cannot understand that 2,010 years after the coming of Christ, we get up and kill each other. It is very very sad. I just pray that we never see this kind of a situation again in the history of this country. I wonder what goes on in the mind of the person who kills somebody so brutally.'
Present situation in Jos
'Well, we thank God. Peace, law and order have largely been restored. Not just the Jos metropolis, but all over the state. We have had only one person injured within the last 15 days. There has not been any major event. We have been able to contain the situation. We have had problems in some of local government areas within the last few weeks. We have intensified our patrols both day and night, as well, as there are mobile and foot patrols in the local governments, particularly Riyom LG. We have not recorded any major incident, within the last 10 days.
'As you can see, people are going about their normal activities both by day and night. Schools, banks are opened everyday doing their normal businesses. Even factories that were hitherto closed have all reopened. In addition, negotiation, peace-making, peace-building are also taking place at all levels regularly. And this has played out fine.'
Public confidence
'There is also restoration of public confidence to a large extent. The people now see us as partners in progress. Despite the negative propaganda that was fed to them, by those whose interest one cannot understand. Now, to a large extent, they give us a lot of information and they now cooperate with us better. 'For example, due to our collaborative efforts, that is our own intelligence task force. In collaboration with the CIDC and the SSS, as well as the public, they were able to give us information, which led to a very successful raid. We recovered a lot of explosives and made nine arrests including a woman. So, public confidence has been restored to a large extent. I must say that we have been very very successful.
'A week or two after the January 17 commencement of the crisis, there were large cases of cattle wrestling. People who didn't have cows were involved. Those who lost cows probably wanted to go back to their business of hardmanship. But today, that has been reduced.
'The curfew that was 24 hours before is now nine hours and we hope the situation will further improve. As part of restoration of public confidence too, I have been invited to give a lecture on the military participation in internal security operation, by the University of Jos, Faculty of Law. It is all part of the restoration of peace.
'The public is also appreciative of our efforts. One of our sector commanders at the task force was given an award by the community in area of his operational responsibility. Also, in our effort to ensure public confidence, we are supplying water where there is none, free medical service and we are also involved in traffic control. Schools that were closed during the crisis have been able to open. We have put teachers there and we hope that will continue.'
Challenges
'One major challenge we have now is that every apparently small event is being linked to the crisis. For example, any small quarrel between two people that can easily be resolved, is usually linked to the crisis. If they happen to be of different ethnic or religion, it could erupt into serious problem. Even including a game of football. Even in cases of motor accident, drunkenness, natural deaths or even robbery. Once the victim is not of the same ethnic group or religion, it can lead to serious crisis. We pray that our peace mending, negations and meetings will continue to play out well, so that we will continue to record success in the state.
I want to add that we are getting positive signals from all quarters, communities aad places of worship in the efforts being made towards solving the problems once and for all.'
We deserve commendation and not condemnation
'In the overall, I will state that the operation has been very successful. In my sincere assessment if we don't get from the general public, and indeed the nation commendation for this operation, then we truly do not deserve condemnation.
'In the history of public management by the military in this country, I will state clearly and confidently that in this operation we have maintained the rules of war, Geneva Convention. We have worked within the confines of the law, within our mandate. In cases of extreme provocation, we have exercised restraint. I think this is the operation that the most extreme caution and restraint were ever displayed in the history of maintenance of law and order. It is also the operation where the highest discipline was maintained looking at the peculiar situation we found ourselves. We set up a court marshal and that one is also unprecedented to try those that are apparently found wanting during our operation.'
Report of fake soldiers
'The report was purely false. In fact, from day one, there were allegations of fake soldiers from high places down to hoodlums. To the best of our knowledge, these were quickly investigated in accordance with our laws and our procedures. We did our investigation and there is only one fake officer and one dismissed soldier from former 29 Battalion or so. Apart from these two incidents, all the other allegations were false.
'There were hoodlums, wherever they see any soldier in uniform. They just accuse him of being a fake soldier. Several times we were able to save some soldiers from being lynched. One even escaped with injuries, while the brother was lynched. There was another one that was also attacked, but saved by soldiers. These are genuine soldiers. So the allegations were not correct.'
Satisfaction
'I am absolutely satisfied. If you look at what I came through and what I am today, I remain very fulfilled, and I thank God. If you look at the situation to a large extend, somebody might give up. The situation was very had with a lot of incorrect information associated with the loss of human lives that were propagated during this operation. You could imagine what a normal human being would feel. It got to a stage where it became very frustrating and one would have almost given up. But I remain focused, I remain steadfast, committed to carrying out my duties professionally and ensuring that those under me do the same.'
Lessons
'I have learnt never to give up when I am facing challenges wether personal or professional. It will be a great thing for me not to give up when I am facing challenges. I voluntarily joined the military after the university. I have learnt to do my duty with the best of my ability despite all odds. I learnt never to give up as a child.
'As a child, I bearly finished secondary school. I almost became an abandoned child in Kaduna in the 60s, when I was in the primary school. I was seen through secondary school by the benevolent people of old Kano Province. And here I am today. So the lessons I have learnt growing up came to play in this operation is simply to remain focused in whatever challenges I meet in life. Payment of any school fees was a major problem and being looked after, as a child was also a major problem at certain stages of my life.'
Advice
'My advice is that the public should understand that members of the Special Task Force are your brothers and Nigerians. They should understand and support our role, mission, objectives and the synergy of this operation so that we can have permanent peace of which without, there can be no progress. Our leaders and all stakeholders should find lasting solution to the problem once and for all, rather than trading blames.'
Background
'I started as Company Commander (and Acting Battalion 2IC), 221 Tank Battalion, Kainji, in 1986. Since then I have had several commands, instructional and staff appointments. I will just briefly say that after being Company Commander, I was an instructor at the Nigerian Defence Academy (NDA), Kaduna. I was during the Buhari regime, a company commander at 31 Battalion in Bama.
'I was Staff Captain A, 21 Brigade. I was brigade Major in Yola, Directing Staff at the Command Staff College, Jaji. I was Staff Officer, Grade 1, Manpower Planning, Army Headquarters, Lagos. I was Directing Staff, Ghana Staff College, Teshie, Accra, Ghana, Chief Instructor at Command Staff College when I came back from Ghana. I was Commander, Nigerian Army Armoured Corps, 22 Brigade, Ilorin. I was a directing staff and principal staff officer corp, at the National War College, Abuja.
'My last posting before becoming GOC 3, Armoured Division was Commander, Nigerian Army Armoured Division in Bauchi. Today, I double as GOC, Armoured Division which makes me responsible for securing 50 percent of Nigeria's borders with Cameroon and Niger. And 100 percent Nigeria's border with Chad as well as being prepared to assisting the civil authorities in maintaining law and order within the seven states in the area of operational security. Also as the commander of the Special Task Force set up by the Commander-in-Chief for the restoration and maintenance of law and order in Plateau State following the crisis that commenced on January 17, 2011 for which we have been largely successful.'