Where is Recession: Actress, Tayo Sobola Gets G-Wagon as Birthday Gift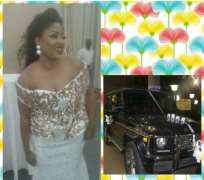 Pretty Nollywood actress, Tayo Sobola better known as Sotayo, has just received a brand new G Wagon as a birthday gift.
The actress is one of many that will proudly say that the year 2016, was indeed a good year as she now increases her garage.
She now joins the league of female celebrities that have G-Wagons and she can now stand shoulder to brag about herself when others step out with their cars.
Congrats to her and happy birthday to the ever smiling actress.