See What Vanguard Newspaper Wrote About SB Live And his Band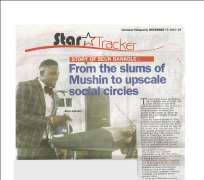 To most party lovers residing in the mainland axis of Lagos, the leader, Seun Bankole also known as SB is not a strange one as the ebullient figure is taking over parties as the artiste of choice for people who love medley of songs from a band.
From the days of playing at Troy Lounge, a then popular hangout in Ogba to becoming the toast of party lovers on mainland, SB and his band has gotten bigger and are commanding attention that has transcended mainland.
'I am in awe of how far we have come in such short time. Corporate organizations, event agencies and individuals now pay us lot of attention. Fortune has smiled on us and this yuletide season holds more promise for us. Today, the story has changed, we now get paid to perform at big event and people now patronized the places we play in regularly. I am thankful to God and people God has used to support the band. I am a product of Mushin and a proof that good things can come out of places like Mushin too', said SB.
The Mushin-born talented Keyboardist is an Afro Pop artiste whose performance style has carved a niche for him in the entertainment circle and has earned him and his band the popular tag, 'Master of all trades'. He has gradually won over many to the extent that he performs at some multinational company's end of year parties, annual general meetings, celebrity weddings and birthday parties among others.
The multi-talented instrumentalist, SB is now getting attention from event organizers, corporate organizations such as Cocacola, Guiness, Mouka Foam, UBA and important individuals who have come to appreciate his talent and the fact that his dexterity behind the mic while leading the band is second to no other band in Nigeria.
SB recently released a single titled, 'Gbemileke' featuring 9ice.
'There is still more to come. We are not resting on our oars neither do we believe we have achieve extra-ordinary things. We are humble that God took us from the humble beginning of Mushin and our days in Troy to the place where we standing before kings, beyond this we believe God will take us to places we can't even afford to dream', he said.
See more exclusive pictures here .
Watch his videos below:
SBLive ft 9ice Gbemileke (official video) -

SB LIVE CHRISTMAS MEDLEY (VIDEO) - https://www.youtube.com/watch?v=9iPmW_XH1JM
SB LIVE AT NIGERIA LAW SCHOOL - https://www.youtube.com/watch?v=4Asgihlbvgg
SB LIVE @ UNILEVER AWARD NIGHT - https://www.youtube.com/watch?v=WvxFECV0yzY
CHEVRON BOSS ENJOYING THE SB LIVE EXPERIENCE - https://www.youtube.com/watch?v=5TwUIz1mI3s
SB LIVE AT SEUN AKINDELE'S WEDDING - https://www.youtube.com/watch?v=Ei6DNsbkes0&t=456s