I've Not Been the Best Husband for 16 years…RMD Reveals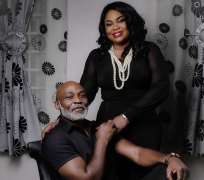 As the countdown begins for the year 2017, some Nigerians have began to reflect on their journey so far in the year 2016 and Nollywood actor, Richard Mofe Damijo, has joined the reflecting train.
The actor might have achieved a lot but not without the support of his lovely wife, Jumobi, whom he calls Aabike, for her strong support both to the kids and his personality.
Better known as RMD, the actor ensuring he does not miss any part of the praises hipped on his wife, made it known that he has not been the best husband for 16 years now but his wife has been able to tolerate him like that.
While thanking the wife for all her endurance, he added that the success of the marriage has been God because a lot of people had predicted that the union will not last yet they are still together and counting.
Read his message to his wife below;
Jumobi to the world, Aabike to me. The mother of my kids, love of my life, my rock, my shield, my baby, my woman, my everything. I want to say thank you but that's not enough, I want to say I love you that's still not enough, I want to say God bless you and that also seems inadequate for all you have been to me and the kids.
You have kept me grounded, loved me unconditionally, prayed with me and for me and gone without to ensure I shine. You know how when close friends and family ask "How is bros?" and you respond with "He's there, I still haven't killed him in his sleep yet" they laugh at the humour but I smile with admiration because I know the truth. The truth is that you have consistently tolerated me and all my excesses and for that I am extremely grateful.
I don't know how I would have done all I have done and I'm doing without your support.
Thank you for deliberately taking a back seat to make me shine.
You know baby, God has put to shame those who said we wouldn't last. It's amazing how far we have come. 16years and counting ain't bad is it now?
Yea, I know they are not enough but I'll still go ahead and say THANK YOU, I LOVE YOU and GOD BLESS YOU my ABK. Happy wedding anniversary baby.