Singer, LKT Brags About Son in US (Photos)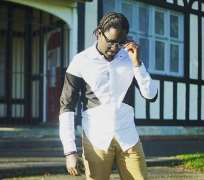 It's not easy nurturing a baby from infant to that adulthood and for those being father for the first time, sometimes it looks like film trick but they are actually facing the reality of what they deposited in a bank no one can withdraw from.
Singer, LKT, is currently enjoying fatherhood and it has not been an easy ride by he has still been able to play that role beyond his imagination.
The singer, who has since relocated to the US with his wife, has been having a nice time with his family and he could not hide how happy he is seeing his boy grow so fast.