December 26, 2016

| AMEBO
How JJC Skillz Ordered for Gifts for Wife Three Weeks Before Christmas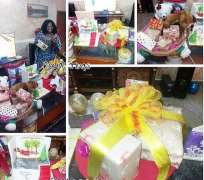 Nollywood actress, Funke Akindele and her hubby, JJC Skillz, have become a trending item this past few weeks and they keep trending even in the post Christmas celebration.
The actress woke up to a surprise customized Christmas gifts from her hubby in the early hours of the day which has gotten many ladies jealous but that is what real love is all about.
According to the company in charge of the whole packaging of the gifts, Royal Hugs, Skillz, had put the call through to surprise his wife about three weeks before Christmas because she has been that hardworking wife that deserves the best.
Making the revelation, they wrote, "So we got the famous call from JJc Skillz earlier this month to put a smile on Wifeys's face for Christmas. He went on about how she is hardworking and wanted to make her smile for Christmas."