ONUOHA LEAVES NIGERIA DOOR OPEN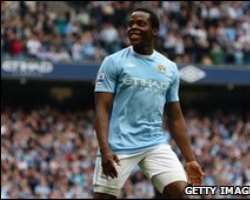 Manchester City defender Nedum Onuoha has insisted he has not ruled out playing for Nigeria.
The Nigerian Football Federation had made it known that Onuoha rejected a request to join their squad for this summer's World Cup in South Africa.
Onuoha has played for England Under-21s but can switch allegiances as he has not featured in senior internationals.
"I'd rather be first choice at my team first before I start an international career," Onuoha, 23, told Sky Sports.
Onuoha has yet to make up his mind about which country he would like to represent at senior level.
"As I say I want to sort out my club career first before thinking about my international career," he reiterated.
Onuoha was also surprised by they way the story has been reported.
"I said to the manager of Nigeria it wasn't the right time for me but from there there's been all sorts of outrage in Nigeria and, before that, people saying I'm turning my back on England," he added.
"But I am trying to get it to a point where I play enough games and play well enough for me to have the option to be selected by either. So I'd rather get to that position first before I start making a decision."
Onuoha dismissed reports that he had turned down Nigeria because he was waiting for a call-up from England manager Fabio Capello.
"I was in shock to be honest because that wasn't the case. That was never my reason for making the decision."
Asked if he might regret missing out on a chance to go to the World Cup, Onuoha replied: "I don't think it will be a moment of regret because I believe if I'm able to play to my potential and good fortune then in the future I will have another try at another World Cup and I'd be in better shape going into it because I'll be a better player and a better person and in a better position to be doing that."