Breaking News: Actress, Chacha Eke Faani Delivers Baby Girl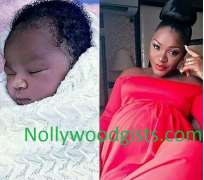 Pretty Nollywood actress, Chacha Eke Faani, has just delivered a pretty baby girl after celebrating the Christmas at the hospital.
Reports reaching us have it that both mother and daughter are doing fine. Rather than get worried like the typical African man, hubby to the actress, Austin, was so elated as he took to his social media account.
Sharing his happiness, Austin wrote, 'Our Christmas Princess is here!!! Welcome to my home Kairarachukwu Dior Faani. My wife, your mother, is my JEWEL of INESTIMABLE VALUE Kamara, my 1st daughter, your sister, is my PRICELESS GEM & CHARM You, my Kaira, you are GOLDEN!!! Thank you Lord for blessing me with 3 Beautiful Ladies to love me unconditionally for the rest of my life. Thank you Lord for safe delivery. Mommy & baby are doing very well."